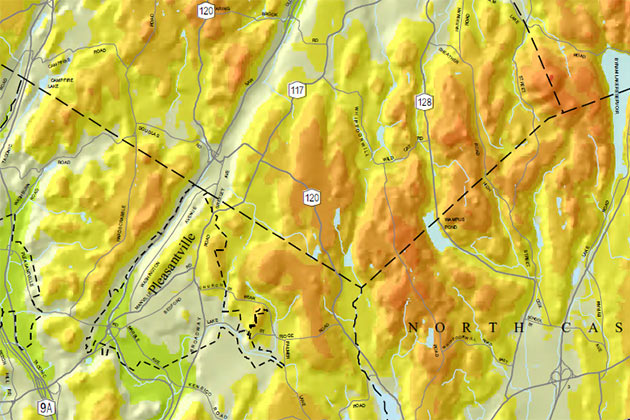 The Planning Department maintains a wide array of maps which can be viewed online or purchased in print. We are located on the 4th floor of the Michaelian Office Building at 148 Martine Ave. in White Plains. Go to directions. Our walk-in hours are from 9:00 a.m. to 4:00 p.m. on weekdays. For more information, contact Karen Duffy by e-mail at or call (914) 995-4418.
The Westchester County Clerk's office maintains an extensive online database of land records and maps. Go to online database.
Many of the mapped features and other geographic data layers including recent aerial photography can be viewed and downloaded from Westchester County's GIS web site. Unless noted, most printed maps are at a scale of 1"=1 mile.
Facility and District Maps
Price

County Legislative Districts 2014

District 1, District 2, District 3, District 4, District 5, District 6, District 7, District 8, District 9, District 10, District 11, District 12, District 13, District 14, District 15, District 16, District 17

$15.00
United States Congressional Districts 2012
$15.00
New York State Senate Districts 2012
$15.00
New York State Assembly Districts 2012
$15.00

School Districts and Educational Facilities 1999 (public and private schools and colleges)

$5.00
Postal Zip Code Areas and Facilities 1998
$5.00
Westchester County Agricultural District 2014
NA
Houses of Worship 2015
County Funded Youth Programs 2013
NA
Maps that sell for $15.00 are individually printed on the department's color plotter. A few other maps (School Districts, Postal Zip Code Areas, e.g.) are offset printed in larger quantities and are sold at a lower price.
Aerial Photographs
Price
2004 Westchester County Series (36" x 36" black line print), 1"=200'
$5.00 each

Historical Aerial Photographs for the years 1995, 1990, 1986, 1980, 1976, 1970, 1965, 1960, 1954, 1947, 1940, 1926 and 1925 can be viewed online by clicking here. Our Aerial Photographic collection can also be viewed through a GIS mapping application that includes the years 1947, 1960, 1976, 2000, 2004, 2007, 2009, 2010, 2011 and 2013. Go to viewer. Use the slider at top right of map to select year to display.