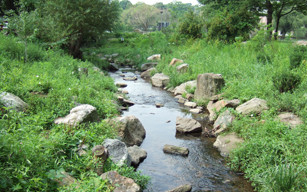 This project, on the grounds of New Rochelle High School, was completed to stabilize the steep and eroding banks along Stephenson Brook.
The banks were regraded, coconut fiber mats and biologs (biodegradable support structures) were installed to temporarily stabilize the banks, underwater logs were installed to add natural riffles to the water to increase dissolved oxygen, and then the area was planted with perennials, shrubs and trees to purify the water and keep the banks permanently stabilized.
The County also added upland vegetation along the nearby Huguenot Lake shoreline to control erosion and enhance habitat for wildlife. Yellow iris (Iris pseudacorus) and blue flag iris (Iris versicolor) were added because they naturally filter pollutants including nitrogen and phosphorus and they enhance the aesthetics of the lake's shoreline.
To View The Site: The site is in front of New Rochelle High School on North Avenue in the City of New Rochelle.