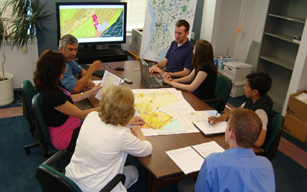 Unemployment and Size of Labor Force
Between 2005 and 20009, unemployment rates in Westchester varied by municipality, with a range from 3.2% to 11.2%. Note that unemployment rate estimates are released at the county level on a monthly basis by the New York State Department of Labor. The Census Bureau's estimates for municipalities may substantially deviate from the most recent estimates at the county level due to fluctuations in the economy.
Workers who Work in Municipality
Most Westchester County workers are employed outside the municipality where they live. Buchanan has the smallest proportion of locally-employed residents at 8%, while White Plains has the highest percentage at 36%.