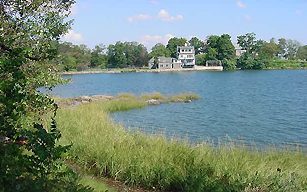 Westchester County's economic, recreational and environmental well-being is directly tied to the health of Long Island Sound, which is designated an Estuary of National Significance. Westchester County also has designated the shore of this estuary a critical environmental area.

In order to protect this resource, county agencies, working with municipalities, have been actively involved in programs to improve water quality and fish and wildlife habitat in the sound's watershed (or drainage basin) in Westchester. Nonpoint source pollution (or polluted stormwater) control is at the heart of these improvement efforts.
Nonpoint source pollution is polluted stormwater runoff containing sediment, fertilizers and pesticides, petroleum, heavy metals, and wastewater from failing septic systems. These pollutants are often carried by runoff to streams, rivers, and Long Island Sound. They are a serious problem that can only be kept under control by changes in the way we use the land and how we maintain our homes and automobiles.

Watershed Advisory Committees
The county's nonpoint source pollution control program, initiated in 1991 to dovetail with the federal and bi-state Long Island Sound Study, has focused its efforts on intermunicipal watershed planning, natural resources restoration and public outreach and education since 1995.
The intermunicipal planning aspect of the program strives to coordinate and guide the activities of 19 cities, town and villages in Westchester's Long Island Sound watershed, which extends from Lewisboro south to Mount Vernon. To ease this effort, the watershed was separated into seven study areas made up of one to three subwatersheds. A Watershed Advisory Committee (WAC) is assigned to each of the six areas. The WACs are comprised of residents and municipal staff charged with crafting a watershed management plan for their respective study areas. They receive administrative and technical help from County Planning Department staff. Three of the WACs (WACs 3, 4 & 5) have completed their plans; a fourth (WAC 7) plan is being drafted.
Subwatershed
Municipalities
WAC 1: Silvermine, Mill and Mianus Rivers
Bedford, Lewisboro, North Castle, Pound Ridge
WAC 2: Byram River
Bedford, New Castle, North Castle, Port Chester
WAC 3: Blind, Beaver Swamp and Brentwook Brooks; Milton and Port Chester Harbors
Harrison, Mamaroneck Village, Port Chester, Rye Brook, Rye City
WAC 4: Mamaroneck and Sheldrake Rivers; Mamaroneck Harbor
Harrision, Mamaroneck Town & Village, New Rochelle, Scarsdale,
White Plains
WAC 5: Pine and Stephenson Brooks; Larchmont Harbor
Larchmont, Mamaroneck Town & Village, New Rochelle, Pelham,
Pelham Manor
WAC 6: Hutchinson River
Eastchester, Mt. Vernon, New Rochelle, Pelham, Pelham Manor, Scarsdale
WAC 7: Bronx River
Ardsley, Bronxville, Eastchester, Elmsford, Greenburgh, Harrison, Mt. Pleasant, Mt. Vernon, New Castle, North Castle, Scarsdale, Tuckahoe, White Plains, Yonkers
The County of Westchester and Save the Sound have partnered together to study the Hutchinson River watershed within the Coastal Long Island Sound Drainage Basin.
The Hutchinson River has long been degraded by urban development that has disconnected natural floodplains from the river and impaired its water quality. Stormwater runoff from impervious surfaces carries polluted stormwater – combined with raw or partially-treated sewage – into the River, causing significant ecological harm and posing risks to human health. Today, all segments of the lower Hutchinson River are listed on the New York State 303(d) list of impaired waterbodies.
To restore the Hutchinson River, Save the Sound and Westchester County are working with local communities to develop a watershed plan, beginning with the upstream portion of the Hutchinson River watershed in Westchester County as Phase I of the planning process. Phase II will address the Bronx portion of the watershed beginning in 2023. Watershed planning provides a blueprint for future restoration of the river by identifying and prioritizing activities to reduce impairments, improve water quality, and enhance the quality of life for residents along the Hutchinson River. The US EPA's 9 element or "9e framework" will guide the work of the project with a focus on the reduction of non-point source pollution entering the river. The ultimate goal, through future restoration projects identified in the watershed plan, is to improve water quality to the point where the Hutchinson River and its tributaries can be removed from the NYSDEC list of impaired waterbodies through green infrastructure projects, habitat restoration, nature-based flood resiliency, and improved environmental policy.

Watershed Planning
The WAC plans assessed and made recommendations for improving the following:
municipal ordinances and comprehensive plans of development
streams
wetlands
stormwater management
public education and outreach
With specific regard to streams, wetlands and stormwater management, the WACs identified potential restoration sites and made recommendations for restoring them. Learn more about aquatic restoration.
Related publications
For further information on watershed planning efforts concerning Long Island Sound, contact:
David Kvinge, Assistant Commissioner
Tel: (914) 995-2089 Fax: (914) 995-3780