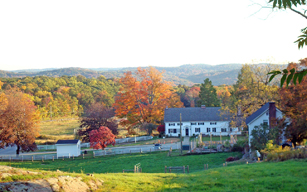 The Watershed Agricultural Program is a joint venture by New York City and the upstate farmers to protect the city's drinking water sources from agricultural sources of pollution while maintaining the economic viability of farming in the region.

In partnership with the Farmer-led Watershed Agricultural Council, the city has funded a voluntary program of environmental review, pollution prevention planning and implementation on 300 farms in the Cat/Del system. Three "Demonstration Farms" have been chosen for the Croton System. Farmers are invited to work closely with a team of resource conservationists, agronomists and civil engineers to develop "Whole Farm Plans" that incorporate the goals and practices of pollution prevention into their farm operations.

A Croton Watershed Agricultural Committee was formed to administer Whole Farm Planning in the Croton watershed. A full East-of-Hudson Whole Farm Planning Initiative is currently being developed as the vehicle to design and implement Best Management Practices to preserve and protect water quality in the Croton system.
In 2003, Westchester County secured Hilltop Hanover Farm to perserve open space and also to protect the watershed. You can visit Hilltop Hanover Farm and Environmental Center to learn more about preserving and sustaining agricultural and evironmentally sensitive practices.

The county created the Westchester County Agriculture and Farmland Protection Board to maintain the economic viability of the agricultural industry and to protect the environmental and landscape preservation values associated with agriculture.

At the state level, the NYS Department of Agriculture and Markets fosters a competitive food and agriculture industry that benefits producers and consumers alike and works diligently to promote a viable agricultural industry, foster agricultural environmental stewardship, and safeguard the food supply.