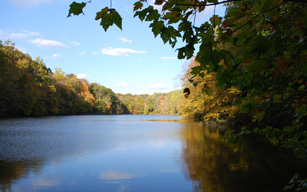 The Westchester Legacy Program is a county initiative to acquire, protect and enhance open space lands in Westchester County. To date, the Legacy Program is credited with preserving over 2,000 acres of open space in Westchester County. The acquired properties include linear parks, urban parks, active recreation facilities as well as large tracts of open space forever preserved in their natural state.
The Westchester Legacy Program is funded through the county's annual Capital Budget. These funds, when leveraged with funding from New York State and local governments or private sources, enable the county to participate in and spearhead open space preservation at the local and county levels. A readily available source of funding allows the county to take advantage of opportunities that come up to purchase or otherwise protect critical resources.
 
The Legacy Program was established to aggressively pursue land acquisition with three major priorities.
To preserve green space, protect our county's natural habitats and protect rivers, streams and lakes and to provide passive recreation areas.
To purchase park land for active recreation such as baseball and soccer fields, trailways and bike paths. The development of Westchester RiverWalk, a proposed promenade and trail along the Hudson River, is an important facet of this program.
To acquire land for historic preservation and protection of our cultural heritage. 
The Legacy Program has funded the acquisition of park and open space lands as varied as small urban parks to large rural tracts.
 
Some small urban parks:
Library Green in downtown New Rochelle
Habirshaw Park on the Hudson riverfront in Yonkers
Large rural tracts:
The 200-acre Taxter Ridge property in Greenburgh, preserved in collaboration with the Town of Greenburgh, Village of Tarrytown and the State of New York
The 110-acre Houlihan property in Lewisboro, now known as Old Farm Preserve
The 50-acre Shadow Lake property and the 59-acre Gilbert (the Croft) property in Yorktown and New Castle, now operated as part of Teatown Lake Reservation
The 600+-acre Eagle River Angle Fly Preserve site in Somers
The Legacy Program has also been used to fund improvements to existing county- and municipally-owned recreational facilities, such as the Miracle Field at the county's Ridge Road Park. These legacy-funded improvements are designed to meet an identified county-wide demand. When this funding is used for municipally-owned facilities, the municipality operates and maintains the improvements.