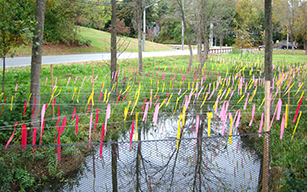 One of the largest wetlands in the Bronx River Parkway Reservation is being restored. The 2.5-acre wetland sits next to Fisher Lane in Greenburgh. Decades of change around it had physically isolated the wetland. The Bronx River Parkway and Fisher Lane were built on fill along the west and south sides of the wetland, respectively. An asphalt-paved path, also sitting on a bed of fill, runs along the wetland's east side. A few pipes underneath the path that once marginally connected the wetland to the waters of the adjacent Bronx River became filled with sediment. They partially collapsed and no longer operated. An extension of the wetland to the north had been mowed for years and became more of a wet lawn than a characteristic wetland.
These changes restricted the amount of surface water getting into the wetland to a few drainage pipes from the roads. Water sporadically got into the wetland when the Bronx River flooded and its channel could get over the raised path, but this occured too infrequently. These restrictions reduced the wetland's ability to improve water quality and absorb floodwaters, both hallmarks of healthy wetlands. More pristine wetlands are known for their ability to act as natural filters and sponges by treating stormwater and the pollution it carries.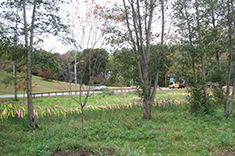 The county is currently implementing its plan to restore the wetland. Beginning in 2013, the county eradicated the invasive and dominating reeds (a.k.a., Phragmites), non-native rose, knotweed and various vines that thrived in the wetland due to changes in the wetland's surroundings. After these plants were removed, new pipes under the path connecting the wetland to the river were installed. Shallow channels and depressions have been created to better manage stormwater entering and exiting the wetland, thereby enhancing the wetland's ability to improve water quality and absorb stormwater. Habitat diversity has been significantly enhanced. The wetland and stream banks will be planted with hundreds of native plants in the spring and early summer 2014.
To View the Site: The site is best viewed from the paved pedestrian path running through the Bronx River Parkway Reservation. The site is next to Fisher Lane, immediately north of the North White Plains Train Station, off the Bronx River Parkway in Greenburgh.