Details

Last Updated on Wednesday, 15 August 2012 11:35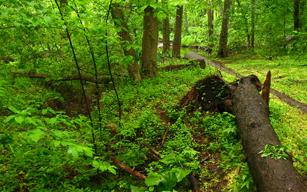 A pipe dumping erosive, polluted stormwater into a wetland was partially removed to prevent the wetland from being ravaged by the pipe's gushing stormwater, which scoured out part of the wetland. The pipe's discharge point was moved out of the wetland and stabilized with a shallow stone-lined basin to disperse stormwater energy. The scour hole was filled with soil and planted with native wetland vegetation.  Logs from felled trees were left behind to provide habitat for small animals.  The result is improved water quality and wetland habitat.
To View The Site: The site is at Nature Study Woods in the City of New Rochelle. The best access point is the entrance to the park on Webster Avenue. Follow the carriage trail from the entrance to the site.