Details

Last Updated on Wednesday, 15 August 2012 11:35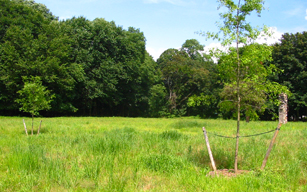 A former plant nursery for Playland Park, this site was abandoned and evolved into an upland meadow.  Non-native and invasive porcelain berry vines (Ampelopsis brevipedunculata) eventually overtook the site. The vines smothered most plants in the meadow, including several trees.  To combat this invader, the vines were cut and removed by machine. As they re-emerged, they were sprayed with a systemic herbicide.  The soil was then tilled and the site re-planted with native grasses and wildflowers.  The meadow is now home to a variety of plants and used by birds, mammals and beneficial insects.  The meadow also removes pollutants from stormwater runoff before it reaches Long Island Sound.
To View The Site: The site is at the Edith G. Read Natural Park and Wildlife Sanctuary in the City of Rye. To get to the sanctuary, enter through Playland Park and follow the signs to the sanctuary. Park at the nature center.