Details

Last Updated on Wednesday, 15 August 2012 11:35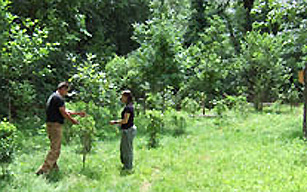 Invasive, exotic (non-native) plants had flourished along much of the East Branch of Blind Brook at Rich Manor Park. Mowed lawn also had been maintained up to or close to the water's edge. Neither the invasive plants nor lawn were ideal stream neighbors. The invasive plants crowded out native plant species, thereby reducing biological diversity in and around the stream. The lawn did little to prevent fertilizers, pesticides and other pollutants from entering the stream and might have contributed to pollutant loading in the stream. To improve water quality in the stream and downstream Long Island Sound, the buffer along the west side of the stream has been restored and expanded. The invasive, exotic plants, largely consisting of Japanese knotweed and mugwort, have been removed and replaced with native
perennials, shrubs and trees. The lawn also has been reclaimed with perennials, shrubs and trees, thereby providing a better pollutant filter. Existing woodland along the stream has been enhanced with shrubs and additional trees.
The stream banks and mud flats in and around the stream channel have been planted with native vegetation. A row of cedar posts topped with birdhouses have been installed along the edge of the restored buffer and the boundary between village-owned parkland and residential properties has been marked with at-grade concrete monuments so that future generations of homeowners and village staff will be better able to recognize the buffer boundary for management purposes. Project construction was completed in June 2006.
To View The Site: The site is at Rich Manor Park alongside the East Branch of Blind Brook parallel to Rock Ridge Road in the Village of Rye Brook. The site must be accessed via the village-owned parkland along the east side of the stream via Acker Drive.